The articles of this educational series, published on the EST social media between May 2018 and May 2020, are now compiled in a book that can be download freely.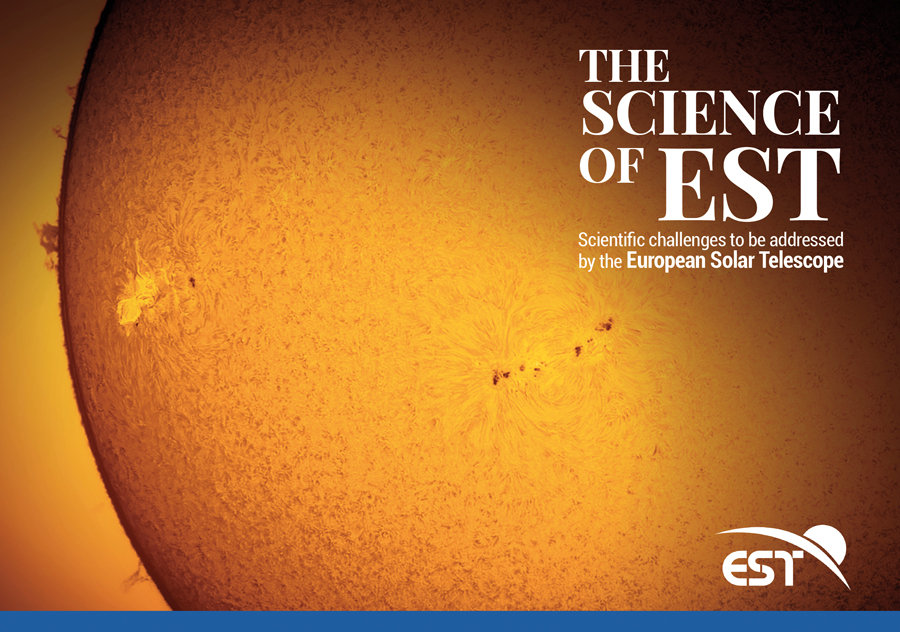 Cover of The Science Of EST book
The EST Communication Office has just released the book "The Sience Of EST", which collects 77 short articles on hot topics of solar physics research that will benefit from the future European Solar Telescope. The articles are written in plain language by professional solar astronomers from 30 institutions across Europe, reflecting the pan-European collaboration behind the EST consortium.
The book has been edited by Instituto de Astrofísica de Andalucía-CSIC for the EST project. It is authored by Luis Bellot Rubio (IAA-CSIC, Spain), Christoph Kuckein (AIP, Germany), Sergio J. González Manrique (AISAS, Slovakia), Ada Ortiz (Expert Analytics, Norway) and Adelina Pastor (IAA-CSIC, Spain). The articles cover the whole range of current solar physics research, from quiet Sun magnetic fields to waves throughout the solar atmosphere, chromospheric dynamics and magnetism, and flares.
The book is available in paperback and online. It is the result of the series "The Science Of EST", published weekly on both the EST social media and website from May 2018 to May 2020. With the present book, the EST project wants to offer the solar physics community an useful resource to promote solar physics among a wide range of audiences, including students, teachers, fellow scientists, policymakers, and the general public.