The events brought together a significant representation of the European Solar Physics community. The EAST General Assembly also took place in the city.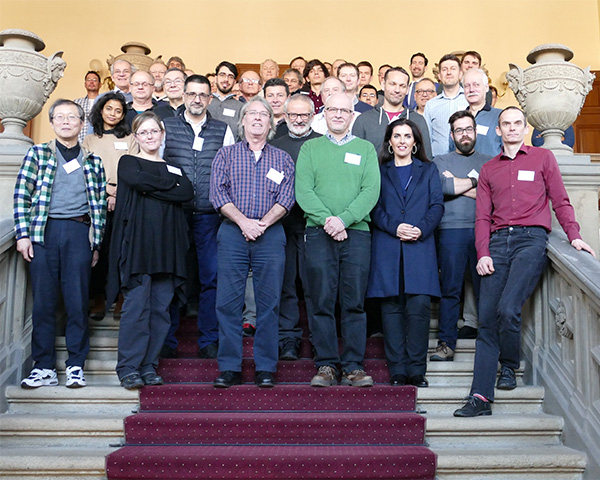 PRE-EST Board meeting group picture (more pictures of the meetings at the bottom of the page).
The consortium of the European Solar Telescope (EST) met last week in Prague to discuss the roadmap towards the future implementation of EST and assess the progress of the EST-related projects. The meetings, held over three days at the Czech Academy of Sciences, brought together a significant representation of the European Solar Physics community in the field of high spatial resolution.
Members of the PRE-EST project shared the latest strategic and technical developments related to EST. This project, funded by the EU H2020 programme to develop a detailed plan for the implementation of EST, has worked intensively during the last year to consolidate the EST design, including the adoption of an 800-mm adaptive secondary mirror to ensure that EST is equipped with the most advanced technology. All works have a clear aim in sight: having a detailed Construction Plan by 2022.
SOLARNET H2020 also held its first annual meeting in Prague. The EU-funded project, which continues the work started by its predecessor under the same name, aspires to integrate the major European infrastructures in the field of high-resolution solar physics. During this first meeting, a comprehensive review of the annual activities was made: networking activities and schools, mobility programmes to ensure access to research infrastructures, and joint research activities.
The meetings were supported by the Czech Republic Ministry of Youth, Education and Sport under the large research infrastructure project LM2018095. The commitment of the Czech Republic with EST was recently reaffirmed in the last update of the Czech National Infrastructure Roadmap, which prioritised and consolidated the Czech participation in the construction and operation of the European Solar Telescope.
EAST General Assembly

The European Association for Solar Telescopes also held its annual meeting. Among other aspects, Dr. Salvo Gugliemino (Università di Catania, Italy) was elected as the new EAST Executive Director (in substitution of Dr. Marco Stangalini).
Founded in 2006, the association is now formed by 26 institutions from 18 countries (Austria, Belgium, Croatia, Czech Republic, France, Germany, Greece, Hungary, Italy, Norway, Poland, Portugal, Slovakia, Spain, Sweden, Switzerland, The Netherlands and UK). The goal of the association is to ensure access of European solar astronomers to world class ground-based high-resolution observing facilities.  EAST is also the promoter of the European Solar Telescope.
SEE ALL PICTURES FROM THE MEETINGS