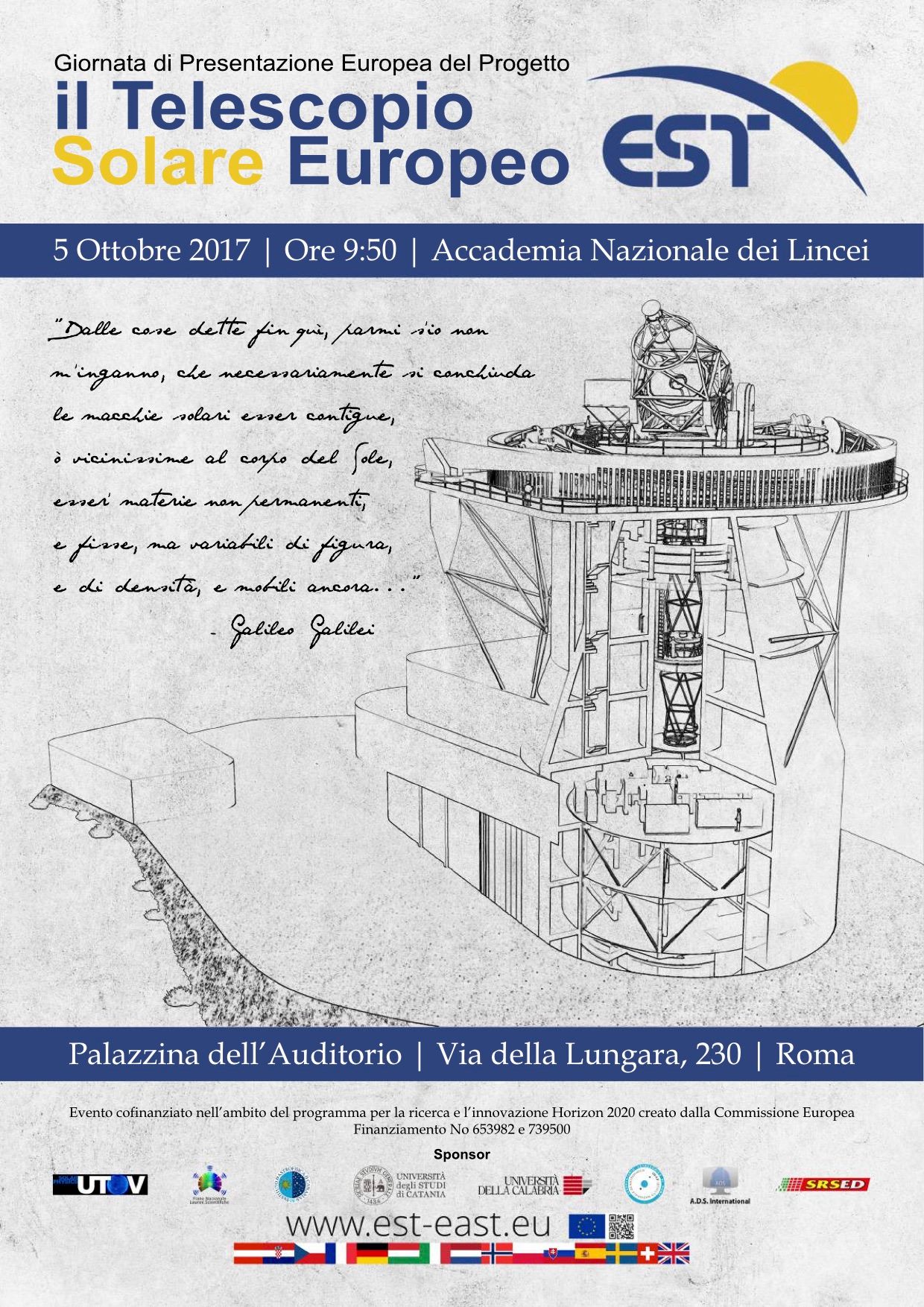 EST presentation in Rome
The first European presentation of EST will take place on Thursday, October 5th, 2017, at 9:50am, at the prestigious location of the Accademia Nazionale dei Lincei (Pallazzina dell'Auditorio - Via della Lungara 230, Rome). The goal of this event is to underline the Italian involvement in the project both from the scientific and the industrial point of view. It will convene the European and Italian scientific communities involved in the project, the elite of Italian industry for astrophysics, the institutions and the public press. 
The presentation is supported by the Instituto de Astrofísica de Canarias (IAC), S.R.S. Engineering, A.D.S. International and the Italian scientific institutions involved in EST: INAF (the Italian National Institute for Astrophysics), the University of Calabria, the University of Catania and the University of Rome "Tor Vergata" 
Contacts : Prof. Francesco Berrilli (Università degli Studi di Roma Tor Vergata/Accademia dei Lincei, This email address is being protected from spambots. You need JavaScript enabled to view it.), Dr. Manuel Collados (Instituto de Astrofísica de Canarias, This email address is being protected from spambots. You need JavaScript enabled to view it.), Dr. Ilaria Ermolli (INAF Osservatorio Astronomico di Roma, This email address is being protected from spambots. You need JavaScript enabled to view it.), Dr. Fabio Lepreti (Università della Calabria, This email address is being protected from spambots. You need JavaScript enabled to view it.) and Prof. Francesca Zuccarello (Università degli Studi di Catania, This email address is being protected from spambots. You need JavaScript enabled to view it.)